Analysis
Vascular bypass grafting is a surgical procedure performed for ischemic heart disease and peripheral vascular disease. The vascular graft is a medical device that acts as an artificial blood vessel. They are implanted in patients with blocked blood vessels to redirect the flow of blood from one area to another. It also restores the normal flow of blood within the body. Porosity in vascular graft allows scaffold to rebuild perivascular tissue. Vascular surgeries are performed to repair arterial stenosis, aneurysms, and unwanted blood clots. Several bioactive substances have been integrated into synthetic grafts by means of various delivery methods to modulate graft healing procedure. One such example includes fibrin glue (FG) delivery of growth factors into ePTFE grafts. Major factors driving vascular graft market include increasing prevalence of cardiovascular diseases, diabetes and last stage of renal diseases, cardiac aneurysms, coronary artery disease (CAD) and hypertension.
Cardiovascular diseases (CVD) may cause vascular occlusion, patients with aneurysms require repair, and also those undertaking hemodialysis to manage kidney failure, undergo prosthetic vascular graft implant. In Europe, around 4.35 million deaths attributed due to cardiovascular disease (CVD) every year, and over 48 million adults in the region live with diabetes, which will increase the risk of cardiovascular disease, and it is the most common cause of kidney failure. Other factors driving vascular graft market growth include genetic and hereditary factors, unhealthy lifestyles such as tobacco smoking and excess alcohol consumption may give rise to various chronic diseases. However, low reimbursement and increasing Out-of-Pocket expenses in developing countries may hinder industry growth.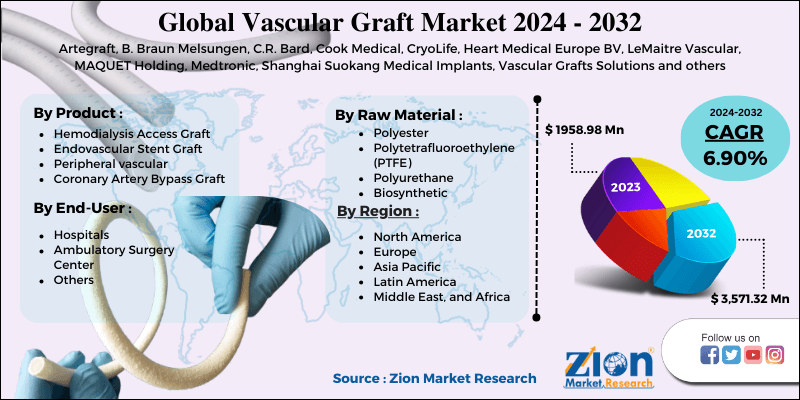 Based on product, the vascular graft market is segmented into hemodialysis access graft, endovascular stent graft, peripheral vascular and coronary artery bypass graft. On the basis of raw material, the market is segmented into polyester, Polytetrafluoroethylene (PTFE), polyurethane, and biosynthetic. Based on end users the market is segmented into hospitals, ambulatory surgery center, and others.
North America held a major revenue share of the global vascular graft market in 2017 and the region is anticipated to continue with its regional supremacy over the forecast period. The growth of this regional market is attributed due to the high expenditure on healthcare, the presence of major industry players in the region and increased funding for research and development activities. Asia-Pacific is projected to grow at a significant growth rate, due to the high prevalence of chronic diseases such as cardiovascular disease and diabetes that will demand for vascular grafts.
Some of the key players in the vascular graft market include Artegraft, B. Braun Melsungen, C.R. Bard, Cook Medical, CryoLife, Heart Medical Europe BV, LeMaitre Vascular, MAQUET Holding, Medtronic, Shanghai Suokang Medical Implants, Vascular Grafts Solutions and others. Industry players majorly focus on new product development and long-term agreements in order to gain maximum share in the market.