Analysis
Process automation and instrumentation is the use of technologically advanced devices along with computer software for control and monitoring purposes. Process automation and instrumentation also lower the expenditure of any manufacturing and production process by increasing production efficiency in various industrial and manufacturing facilities. The implementation of process automation simplifies various operational and maintenance tasks. In other words, process automation and instrumentation involves using hardware, computing technology, and software to allow the industry verticals to operate more securely, effectively, and efficiently. Other advantages of process instrumentation are reduced costs, increased profits, enhanced product quality, improved process safety, and better accuracy.
The global process automation & instrumentation market is likely to experience significant growth in the future, owing to the implementation of IoT across various industry verticals to improve production processes. Furthermore, the increasing adoption and acceptance rate of multivendor portable applications is also stimulating market development. The rising demand for robust IT infrastructure coupled with the need to change and upgrade the existing business models is positively impacting the process automation & instrumentation market growth However, higher implementation and maintenance costs of devices and equipment used for process automation and instrumentation may hinder this market's growth.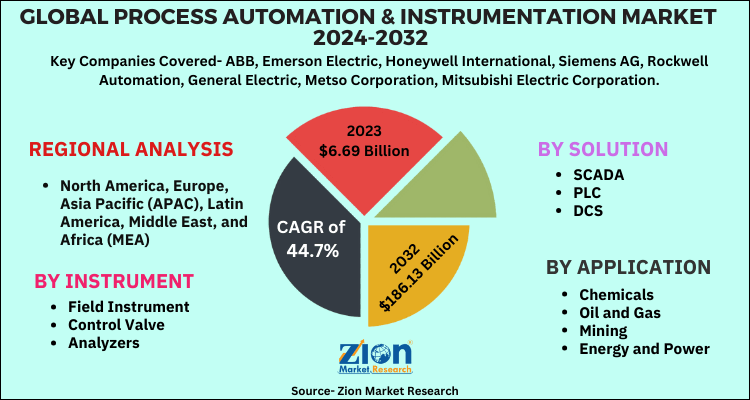 Based on instrument, the global process automation & instrumentation market includes field instrument, analyzers, and control valve. By solution, the market is categorized into DCS, PLC, SCADA, and others. The DCS segment is expected to dominate the market in the future, as distributed control systems (DCS) are majorly utilized in various industry verticals like oil and gas, mining, energy and power. On the basis of application, the market includes chemicals, oil and gas, energy and power, mining, and others.
In 2018, Asia Pacific held an extensive share of the global process automation & instrumentation market, due to the rising number of constructional activities across the region, industrialization, and urbanization. Moreover, the rising demand for automation solutions in the energy and power sector is likely to positively impact this regional market in the future. Europe is likely to show modest growth in the global process automation & instrumentation market in the upcoming years, due to the presence of prominent market players in the region, rising acceptance of multivendor portable applications among different industry verticals due to the need to upgrade their business models.
Some major players operating in the global process automation & instrumentation market are ABB, Emerson Electric, Honeywell International, Siemens AG, Rockwell Automation, General Electric, Metso Corporation, Mitsubishi Electric Corporation, Schneider Electric, and Yokogawa Electric Corporation.