Analysis
Infusion therapy is medication which is delivered through a needle or catheter via the intravenous or subcutaneous application. Infusion therapy offers immediate therapeutic effect. Nowadays, there is an increase in trend of infusion therapy at home through specialty-pharmacy, clinics, and home-infusion companies. It replaces the need for regular travel to the clinic of a doctor to who administers infusion therapy, or to a clinic that specializes in IV treatments. Home infusion care provides medications and a trained staff that is able to treat patients at the place of residence. Receiving therapy at home, outside the hospital or clinic setting, can be a good option for people those are facing a chronic illness, getting better from surgery, or being treated for an infection. Home infusion therapy offers cost-effective, safe alternative to an extended hospital stay.
The home infusion therapy market is expected to witness a robust growth in the near future. The market is mainly driven by growing geriatric population and increasing prevalence of chronic diseases. In addition, rising geriatric population, increase in disease burden, and presence of high unmet medical needs in the low-income regions is resulting into increased demand for home infusion therapy market. Furthermore, Home infusion imparts significant cost savings as compared to the traditional infusion hospital settings which majorly account to the growth of the market. Moreover, growing awareness regarding noninvasive devices along with wide adoption of healthcare devices by population are expected to drive the growth of the market. However, the risk associated with the dose administration, lack of quality workforce, improper use of infusion devices and fewer reimbursement policies in underdeveloped countries are restraining the growth of the market. Technological advancements in medical devices and robust pipeline of infusible drugs are expected to present rewarding opportunities in the market in near future.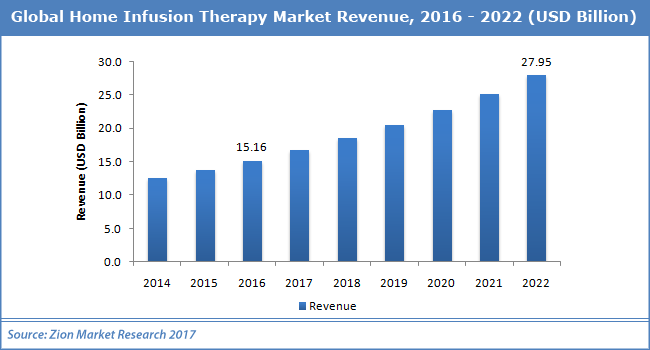 The home infusion therapy market is classified based on product type, application type, and region. On the basis of product type market is divided into the infusion pump, intravenous sets, IV cannulas and needleless connectors. The needleless connectors segment is expected to witness the highest growth over forecast period owing to its noninvasive nature reducing needle stick injuries. The home infusion therapy is led by infusion pump and intravenous sets which account the maximum share in the market due to its rising use in intravenous therapy procedures all around the world. The popularity of Needleless connectors is spreading rapidly owing to its noninvasive nature and prevention of needle stick injuries. On the basis of application type, the market is divided into anti-infectives, enteral nutrition, hydration therapy, chemotherapy, parenteral nutrition, endocrinology and other. Anti-infectives segment which includes antibiotics and antifungal infusion treatment accounted maximum share out of the total revenue generated. Enteral and IVIg were the other segments which followed Anti-infectives segment.
Globally, demand for infusion therapy is on the rise, with North America and Europe leading the way. By geography, North America dominates the home infusion therapy owing presence of home infusion therapy providers and favorable reimbursement policies. In addition growing healthcare expenditure and increasing incidences of chronic diseases such as cancer, diabetes, immune deficiencies as a result of unhealthy lifestyle and lengthening the lifespan of the senior population and are accounting the growth in this region. Europe was the second after North America in terms of revenue generation. Preference for lower cost, high-quality outpatient treatment, and growing health-conscious population are the factors driving the growth in this region.
Asia Pacific was a fastest growing market. India and China are the major shareholders in this region. The growth is generally due to increasing aging population and rising chronic diseases. In addition rising disposable income, growing number of home infusion therapy providers are impacting growth in this region. Furthermore, raising awareness and emergence of the health-conscious population is expected to foster growth in future. Latin America is another key regional market and is expected to moderate growth in the coming years owing to rising healthcare infrastructure and raising awareness among the people. The Middle East and Africa are anticipated to witness significant growth within the forecast period.