Analysis
Epoxy resins market is a rapidly growing industry with demand arising from various regions of the world. Epoxy resins are low molecular weight pre-polymers or higher molecular weight polymers. It is defined as a molecule containing more than one epoxide groups. They are polymeric or semi-polymeric materials, made from a class of synthetic thermosetting polymers containing epoxide functional groups. Epoxy resins demonstrate various properties that are unfeasible for other thermoset resins. They are compliant to a host of applications and processes owing to its variety of physical forms. Growing demand from paints & coatings industry and adhesives industry is driving the market forward. Epoxy resin coatings are used to improve adhesion in marine, automotive and other industrial applications. In addition, growing demand from the end-user industries such as transportation, marine coatings, aerospace, electrical & electronic laminates, composites and decorative powder coatings are expected to augment the growth of the global epoxy resins market. However, fluctuation in the prices of raw materials is expected to be a major restraint for the epoxy resins market. In addition, the availability of substitutes such as polyurethane and phenolic resins in various applications is expected to curb the growth of the market. On the other hand, introduction of bio-based epoxy resins is projected to unveil new avenues of opportunities for the epoxy resins market within the forecast period. In addition, increased R&D and technological advancements are anticipated to create new opportunities in the end-user industries.
Based on the applications epoxy resins market can be further segmented into categories like paints & coatings, wind energy, composites, construction, electrical & electronics and others. Paints & coatings segment dominated the market share and is expected to grow within the forecast period. They are extensively used in paints & coatings as they dry swiftly and offer protective, tough coating with excellent hardness. This has led to the rising demand for epoxy resins in paints & coatings application. The composite material application has been the fastest growing application and is expected to maintain the trend. Epoxy resins are the most preferred thermoplastic resin used in manufacturing polymer composites on account of their superior properties.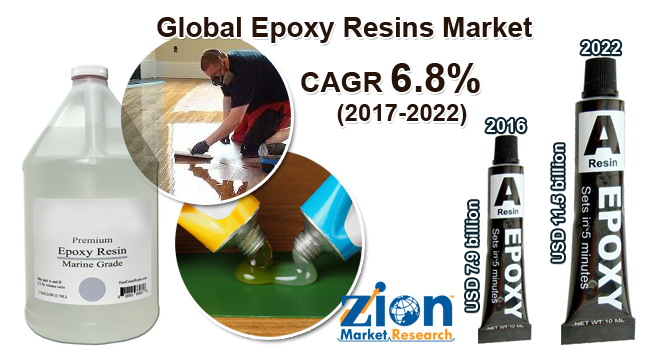 The Asia Pacific accounted for most of the global market share and is expected to grow in light of growing demand for paints & coatings and composites applications. In addition, rapid infrastructure development and technological advancements in the end-user industries such as automobile are expected to spur the growth of the epoxy resins market in the Asia Pacific region. Moreover, Asia Pacific region is also expected to consume more epoxy resins owing to its extensive road network.
The Middle East & Africa epoxy resins market is expected to witness lucrative growth over the forecast period as a result of increasing infrastructure activities in the region and the growing construction sector especially in countries like UAE and Qatar. In addition, increased government spending on construction is also expected to spur the epoxy resins sector.
The key players in this industry are Dow Chemical Company, Nan Ya Plastic Corporation, Momentive Specialty Chemicals Inc., Sika AG, Kukdo Chemical Co. Ltd., Cytec, Huntsman Corporation, NAMA Chemicals, 3M Company, Du Pont, BASF SE, Baling Petrochemical, Spol Chemie and Ashland Inc among others