Analysis
Diabetic retinopathy is an eye disease in which the retina is damaged due to diabetes-related complications. People who have been suffering from diabetes for more than 20 years are at an elevated risk of diabetic retinopathy. Diabetic retinopathy does not have early warning signs. The continued high blood sugar levels lead to the damage of retinal blood vessels. The retinal blood vessels may swell and trickle. In certain cases, unusual blood vessels develop on the retina. Diabetic retinopathy can develop in people with type 1 or 2 diabetes. High sugar blood levels for a prolonged period of time leads to obstruction of small vessels that supply blood to the retina. Diabetic retinopathy progresses in four stages: mild non-proliferative retinopathy, moderate non-proliferative retinopathy, severe non-proliferative retinopathy, and proliferative diabetic retinopathy (PDR). In mild nonproliferative retinopathy, tiny balloon-like swelling occurs in retinal blood vessels. In moderate nonproliferative retinopathy, the vessels supplying blood to retina swell and change. Furthermore, these blood vessels might not carry the required blood. In severe non-proliferative retinopathy, more blood vessels are blocked, leading to deprivation of blood supply to the retina. Proliferative diabetic retinopathy is an advanced stage, where fragile, new blood vessels grow inside the retina and in the vitreous gel.
The severity of diabetic retinopathy can be minimized by taking constant eye check-ups, controlling blood sugar and blood pressure levels, and taking note of vision problems as and when they occur. Diagnosis of diabetic retinopathy is conducted through eye examinations, such as visual acuity test, pupil dilation, ophthalmoscopy, Fundus Fluorescein angiography (FFA), and Optical coherence tomography (OCT), among others. The eye care professionals examine the retina for initial symptoms of diabetic retinopathy.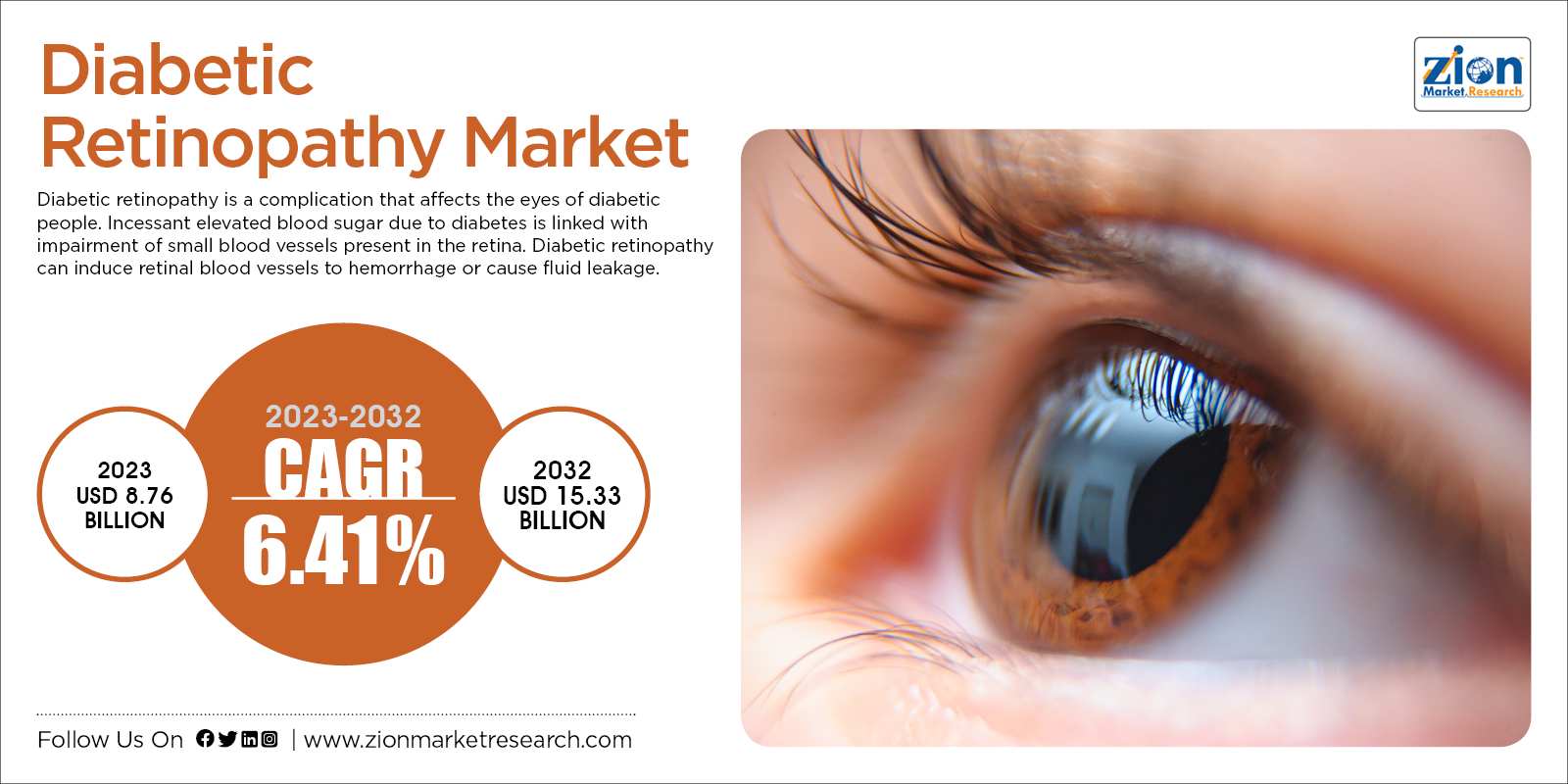 As per the WHO estimates, the diabetic population has grown from 108 million adults in 1980 to approximately 422 million adults in 2014. Furthermore, diabetic prevalence globally has doubled from 4.7% in 1980 to around 8.5% in 2014. According to the Department of Assistive and Rehabilitative Services (DARS), around 78% diabetic retinopathy cases reported in 2013 might eventually lead to loss of vision. In U.K., diabetic retinopathy was the prominent cause of blindness in 2017, as per the Royal National Institute of Blind People (RNIB).
Growing baby boomer generation worldwide and rising occurrences of diabetes due to a sedentary lifestyle and an unhealthy diet are major factors driving the growth of the global diabetic retinopathy market. Furthermore, delayed diagnosis of diabetes, refusal for treatment, rising occurrences of vision loss due to diabetes, increasing healthcare expenditure, development of innovative treatments, and increasing research and development activities will further propel market growth. Various government and non-government organizations are trying to increase awareness regarding diabetic retinopathy and rapid advancements in the technology are acting as growth opportunities for the market players in the diabetic retinopathy market. However, lack of skilled ophthalmologists, non-availability of insurance facilities, and substandard primary infrastructure in developing regions might restrict the growth of the global diabetic retinopathy market.
The global diabetic retinopathy market is divided into type, management, and region. By type, the diabetic retinopathy market is bifurcated into non-proliferative diabetic retinopathy and proliferative diabetic retinopathy. Non-proliferative diabetic retinopathy holds the majority market share, due to the rising number of diabetic retinopathy patients and increasing awareness. The management segment of the market includes vitrectomy, anti-VEGF therapy, laser surgery, and intraocular steroid injection. Anti-VEGF therapy segment holds the majority share of the management segment, due to its multiple benefits when compared to other therapies.
North America is projected to be the leading region in the forecast timeframe. The increasing prevalence of diabetic retinopathy and growing espousal of an unhealthy diet are driving the market growth in this region. Europe is projected to be the second largest market. The major growth factors include an increasing number of diabetic patients, rapid technological advancements, and increasing healthcare spending. The Asia Pacific is projected to propagate at a speedy rate in the forecast timeframe. Increasing geriatric population, growing diabetic population, and multiple governmental and non-governmental efforts will boost the market growth in this region. The Latin American market will develop at a significant rate in the forecast timeframe. The Middle Eastern and African countries are expected to experience moderate growth in the near future.
Some key players in the diabetic retinopathy market include Regeneron Pharmaceuticals, Novartis, Allergan, Genentech, Bayer AG, Aerpio Pharmaceuticals, BCN Peptides, Ampio Pharmaceuticals, ThromboGenics, Alimera Sciences, and Kowa Company, among others.